You have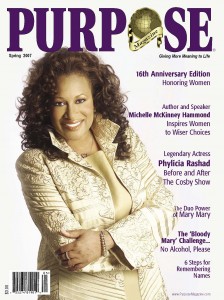 entered the PURPOSE domain, an enlightening zone to inspire, motivate and inform you for a more effective and fulfilling life.
PURPOSE Magazine is an Inspirational and Motivational publication to help you confidently meet the challenges of living in the 21st century.
PURPOSE is dedicated to uplifting its readers spiritually, mentally, emotionally and physically by providing practical, encouraging articles and messages on purpose-inspired people, health, family, education, business, finance, books, music and much more.
The aim of PURPOSE is counteract over-exposure to negative news and information with solutions-oriented messages of insight and hope.
Throughout PURPOSE you'll find diversity and high moral standards.
PURPOSE is a place of Respect, Integrity, Ageless Wisdom, and Spiritual Principles, presenting people and messages to encourage and empower you to live your purpose.